Electronics Project 80 – Practical Use of Small Servo Motors
<![if !supportEmptyParas]> <![endif]>
概要 Introduction
RCサーボモーターを制御して何か実用的な目的に利用してみようというのが今回の趣旨である。
The main purpose here in this project is to develop Picbasic Pro based programs for various simple practical applications.
<![if !supportEmptyParas]> <![endif]>
回路図 Circuit Diagram
前の電子工作79で使ったものと同じ回路 Fig..1を使う。
Here, the same circuit (Fig. 1) as used in the previous Electronics Project 79 is used because my concern is at present to develop various simple but workable programs.
<![if !supportEmptyParas]> <![endif]>
<![if !supportLists]>(1)<![endif]>設定した時間が経ったらサーボモーター軸を90度回転して元の位置に戻すプログラム
Program capable of waiting a given set time, and then rotating the servo motor axis by 90 degrees and finally returning it to the initial position
<![if !supportEmptyParas]> <![endif]>
(Fig.1)
<![if !vml]>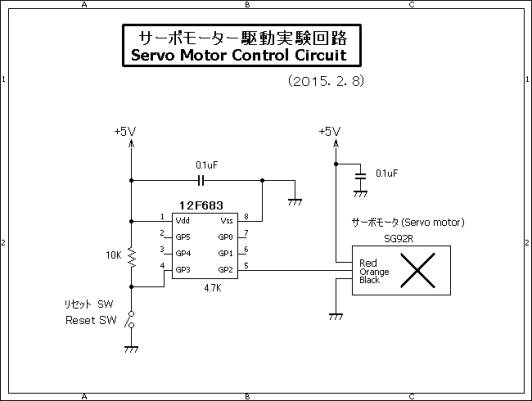 <![endif]>
<![if !supportEmptyParas]> <![endif]>
(Photo 1) パルス幅と回転角の関係
Relationship between pulse width and rotational angle (90 degrees)
Spec: 1.6kgf-cm, DC +4.5-6V, 140-160 degrees, 0.125sec/60deg (at 5V), 23.8x11.8x20.8mm, 9g
Pulse width=1.70 ms Pulse width=2.00 ms Pulse width=2.40 ms
<![if !vml]>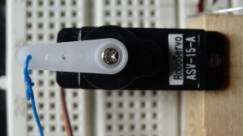 <![endif]><![if !vml]>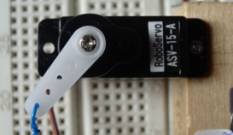 <![endif]><![if !vml]>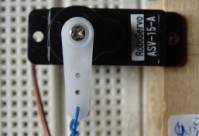 <![endif]>
<![if !supportEmptyParas]> <![endif]>
'Note:
'melabs U2 Programmer's configurations 12F683
'FOSC – INTOSCIO; WDTE - Enable; Power-up Timer – Enable; 'MCLRpin – Reset ; BODEN - Enable; Internal External Switch Over – Enable,
'Fail-Safe Clock Monitor – Enable, Code - Disable; Data EPPROM – Disable
<![if !supportLists]>(2)<![endif]>遠隔トグルスイッチでサーボモーターを操作し別のスライドスイッチを機械的にON/OFFさせるメカとプログラム
Program and mechanism to turn ON/OFF a slide switch (SW) using a remote toggle SW and a servo motor
'Note:
'melabs U2 Programmer's configurations 12F683
'FOSC – INTOSCIO; WDTE - Enable; Power-up Timer – Disable; 'MCLRpin – Reset ; BODEN - Enable; Internal External Switch Over – Enable,
'Fail-Safe Clock Monitor – Enable, Code - Disable; Data EPPROM – Disable
'Note:
'melabs U2 Programmer's configurations 16F688
'FOSC – INTOSCIO; WDTE - Enable; Power-up Timer – Disable; 'MCLRpin – Reset ; BODEN - Enable; Internal External Switch Over – Enable,
'Note:
'melabs U2 Programmer's configurations 16F688
'FOSC – INTOSCIO; WDTE - Enable; Power-up Timer – Disable; 'MCLRpin – Reset ; BODEN - Enable; Internal External Switch Over – Enable,