電子工作99 – 4個のタイマー付き、USB扇風機用の5段階速度コントローラーの製作
Electronics Project 99 – Making 5-Step Speed Controller with 4 Timers for USB Fans
<![if !supportEmptyParas]> <![endif]>
<![if !supportEmptyParas]> <![endif]>
概要 Introduction
前の電子工作98では、扇風機の回転速度を4段階に変えられたが、今回は5段目を加え、しかも、その中で回転がON/OFFを繰返すようにした。更に、新たに12F629(2)を加えてタイマー機能を持たせた。すなわち、タイマーはAlways ON (常時ON)、30min、2hour、5hour (それぞれ、30分、2時間、5時間後にOFFになる)の4個から選択出来る。これで、大分市販の大型扇風機のコントロール機能に似て来た。暑い夏に寝床で頭上から吊るして使おうと思っている。
<![if !supportEmptyParas]> <![endif]>
In this Electronics Project 99, a 4-step timer function using another 12F629 (2) was added to that of the previous E.Project 98, so you can choose one out of the four time modes at one time - Always ON, 30 min, 2 hour and 5 hour, by rotating the left-hand Rotary SW (Refer to Photo showing Side view of Plastic box). If you change the time mode from A to B while A is functioning, B starts counting from zero. When 30-min, 2-hour or 5-hour time mode is up and thereby stopping the fan, for restarting it, press Reset button. The timer restarts with the same time mode. The timer based on 12F629 (2) controls the supply of 5V current from USB Power source to the terminals of the right-hand Rotary SW and to 12F629 (1) through Photomos relay TLP241A (max 2A). In addition, a new position 5 was created on the Rotary SW of 12F629 (1), at which the fan rotates intermittently, that is, it rotates for 56 seconds and then stops for 25 seconds (this repetitive pattern is changeable in the program).
I am planning to use this 4-inch USB fan and its control system, especially using the newly created Position 5 of Rotary SW, for cooling my face and head when I am sleeping on my back during the hot and humid summer time in Tokyo.
<![if !supportEmptyParas]> <![endif]>
<![if !supportEmptyParas]> <![endif]>
The following part has already been described in Introduction of Electronics Project 98 – I will include this for later reference.
The 4-step speed controller prepared this time is used for controlling the rotational speed of USB fans (DC5V) with a diameter of 14 - 15 cm that consume about 300mA. For the purpose, the controller uses a 12F629, a mosfet transistor and a rotary switch (2 pole 6 positions). The control of the rotational speed of fan is based on changing PWM (Pulse Width Modulation) values, which are produced by using a command (software PWM) of PicBasic Pro. If the 12 pins of the rotary switch are connected as shown in Circuit Diagram, 5V power is supplied to 12F629 only when Pole 1 is in one of 4 positions CT1 - CT4 but no power is supplied to 12F629 when Pole 1 is in one of the two remaining positions (which are not connected). As Pole 1 and Pole 2 are connected to the same shaft and move together, when the position of Pole 1 is CT1, the position of Pole 2 is PCT1. Similarly, CT2 corresponds to PCT2, and so forth. In the program below, in the command 'PWM Pin, duty, cycle', duty is duty ratio, determining the magnitude of power output supplying to fan motor. The duty ratios (255, 248, 235, 220) are used in the individual switch positions, where 255 corresponds a duty ratio of 100%, 248 to 97%, 235 to 92% and 220 to 88%. The larger the duty ratio, the more power is supplied to fan motor. Therefore, the position CT1 produces the highest rotational speed, followed by CT2, CT3 and CT4, in that order. These duty-ratio values were decided by trial and error while observing the airflow from the fan. I experienced a problem that the fan did not start to rotate at the positions of CT3 and CT4. This problem was solved with the addition of an extra routine in the program, namely, PWM with a larger duty ratio 248/97% is applied for 100ms for those two switch positions, enabling the fan to start at both CT3 and CT4 positions.
<![if !supportEmptyParas]> <![endif]>
回路図 Circuit Diagram
  今回は、前回のものに12F629(2)を加えることによってUSB扇風機の電源を一定時間後にOFFにするタイマー機能を実現した。タイマーの時間はソフト的に作成し、GP0(ピン7)からフォトモスリレー(電子リレー)で下のロータリースイッチ端子(PCT1―PCT5)に送る電流をON/OFFして機能させる。一方、ロータリースイッチ端子CT5とPCT5の組合せは新たに追加されたもので、間欠タイマー(ON/OFFを繰返す)になっている。ONとOFFの時間プログラムの中で自由に決められる。
<![if !vml]>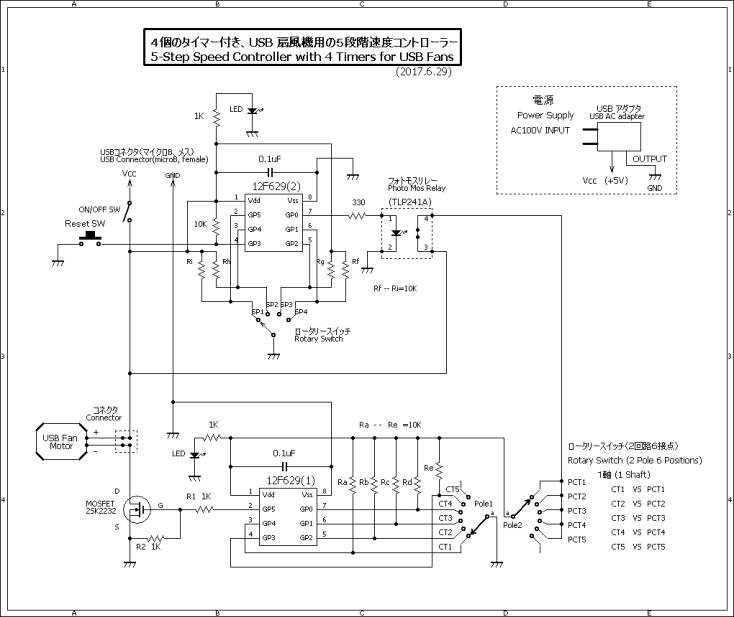 <![endif]>

<![if !supportEmptyParas]> <![endif]>
今回製作した装置: 前回の装置にタイマー機能を追加した。12F629(2)とフォトモスリレー(写真中央左側)の2個のICがその役目を担う。このフォトモスリレーTLP241Aは2Aまでの電流を流せる。空中配線がちょっと多いが、素人ぽくって良いのでは?
Controller circuit with newly added timer function packed in plastic box
<![if !vml]>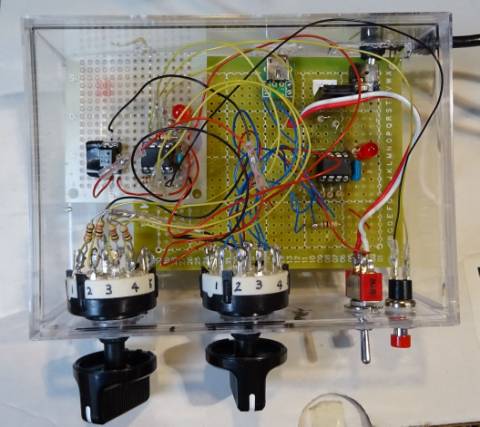 <![endif]>
<![if !supportEmptyParas]> <![endif]>
プラスチックボックスの横面: 左側はタイマーツマミでAlways ON(常時接続)、30min、2h、5hと4個の時間が選べる。時間が来ると電流の供給がOFFになる。右側のものは前回のように、1−4は回転速度が最大から最小に対応し、5ON/OFFは新たに加えたもので回転が間欠的にON/OFFするモード(大体56秒間回転し、25秒間停止の繰り返し)である。タイマーの時間が来て扇風機が止まった時は、Resetスイッチを押して再起動させる。ある時間モード、例えば30minで動作している時に、ツマミを他の2hや5hに変えた場合、それぞれの時間モードで0からカウントが始まる。6の位置に回すと12F629へ電源供給は停止し、LEDも消える。右端から2番目のものは電源SW。
Side view of Plastic box. You can see two Rotary SWs, Power SW and Reset SW. The left Rotary SW (Timer) has Always ON, 30min, 2hour and 5hour time modes, while the right Rotary SW (Speed) has 1 (fastest) to 4 (slowest) as well as the newly added 5 (On/OFF intermittent time mode). When time is up, press Reset button to restart the same time mode. You can change the time mode from A to B while A is counting down, enabling B to start counting up from zero.
<![if !vml]>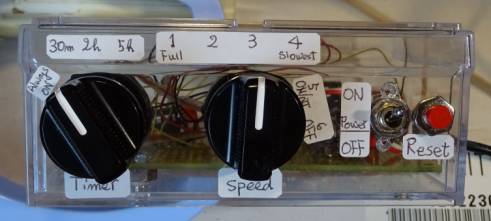 <![endif]>
<![if !supportEmptyParas]> <![endif]>
装置をUSB扇風機と組合せて使ってみているところ
Controller driving a USB fan
<![if !vml]>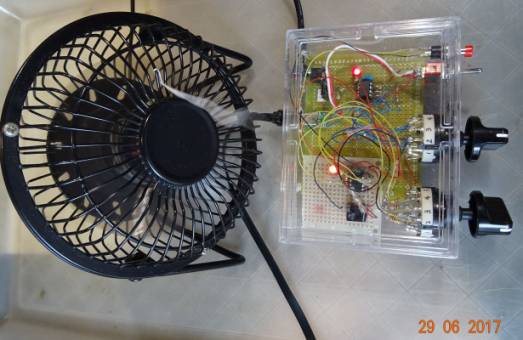 <![endif]>
<![if !supportEmptyParas]> <![endif]>
ロータリーSWの位置とUSB扇風機に消費される電流の関係
Relationship between Position of Rotary SW and Current Consumption by System
ロータリーSWの位置

Position of Rotary SW

消費電流

Current consumption

(mA)

1

310-320

2

240

3

190

4

170

5*

140(ON)-30(OFF)
* 間欠モード intermittent mode
<![if !supportEmptyParas]> <![endif]>